Cyclotek has an extensive reach for delivery of PET Radiopharmaceuticals throughout Australia and New Zealand.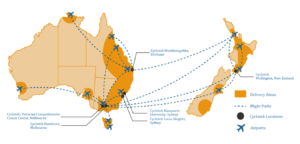 With manufacturing facilities now in each state of Victoria, New South Wales and Queensland, Cyclotek is able to effectively distribute FDG and other PET radiopharmaceuticals throughout the eastern states of Australia and South Australia. From here, these facilities can also support supply options into New Zealand and Western Australia albeit limited due to flights and distance.
Our Wellington facility has complete coverage for New Zealand. Currently supplying Auckland, Hamilton, Wellington and Christchurch existing PET/CT facilities, but easily integrates with flights with Air New Zealand for other possible facilities.