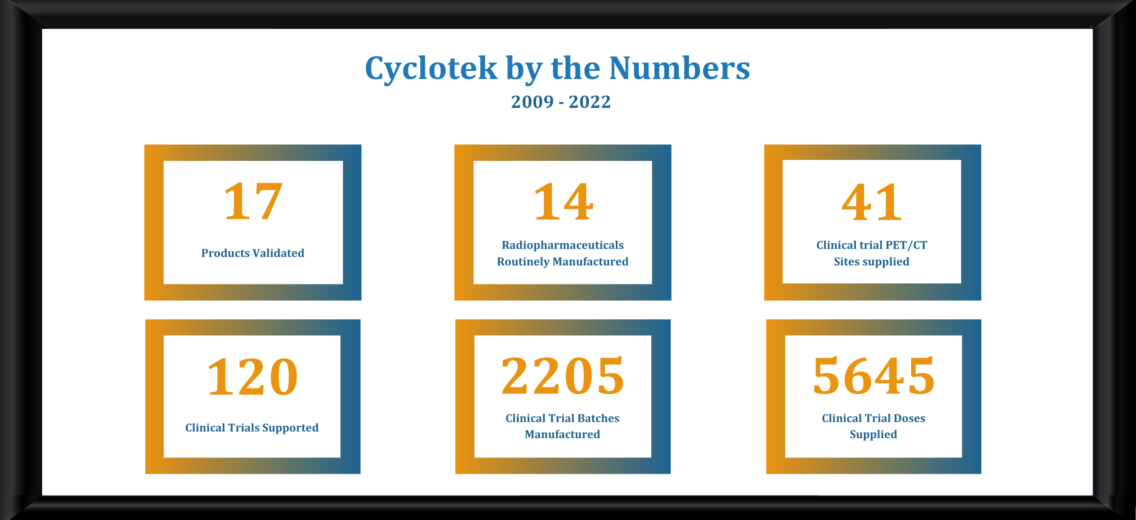 Cyclotek's contribution to clinical trials in Australia and New Zealand
Posted on: 25 July 2023
Latest News
Clinical assessment of novel therapies is paramount in ensuring the future of beneficial healthcare. Cyclotek has a strong history of undertaking the manufacture of GMP-quality radiopharmaceuticals to support clinical trials and investigator-sponsored studies in Australia.
With long-standing industry engagements, Cyclotek is at the forefront of validating new molecularly targeted radiopharmaceuticals for the diagnosis and response evaluation of oncological and neurological diseases within the Australian and New Zealand region.
Our infrastructure and personnel are designed and trained to enable CDMO activities, including translation onto Cyclotek's manufacturing platforms, optimisation, validation and microbiological assessment within our main facility in Bundoora, Melbourne. These activities are supported by our other facilities at the Victorian Comprehensive Cancer Centre, Macquarie University Hospital & Lucas Heights in Sydney, Princess Alexandra Hospital in Brisbane and our Wellington facility in New Zealand.
Cyclotek can offer dedicated hot cells, isolators and synthesis systems, with control and containment strategies that support the manufacture of multiple radio-isotopes and radiopharmaceuticals. Australia has a harmonised regulatory framework with the USA and EU for both the manufacture of radiopharmaceuticals and undertaking sponsored clinical trials for international pharmaceutical and biotechnology companies.
Cyclotek CEO Greg Santamaria states, "We have developed extensive validation methods, investment in infrastructure and personnel to cater for the expanding needs in delivering GMP quality radiopharmaceuticals into the market. It is a pleasure working with our incredible customer-focused staff in executing our mission of making quality radiopharmaceuticals accessible".