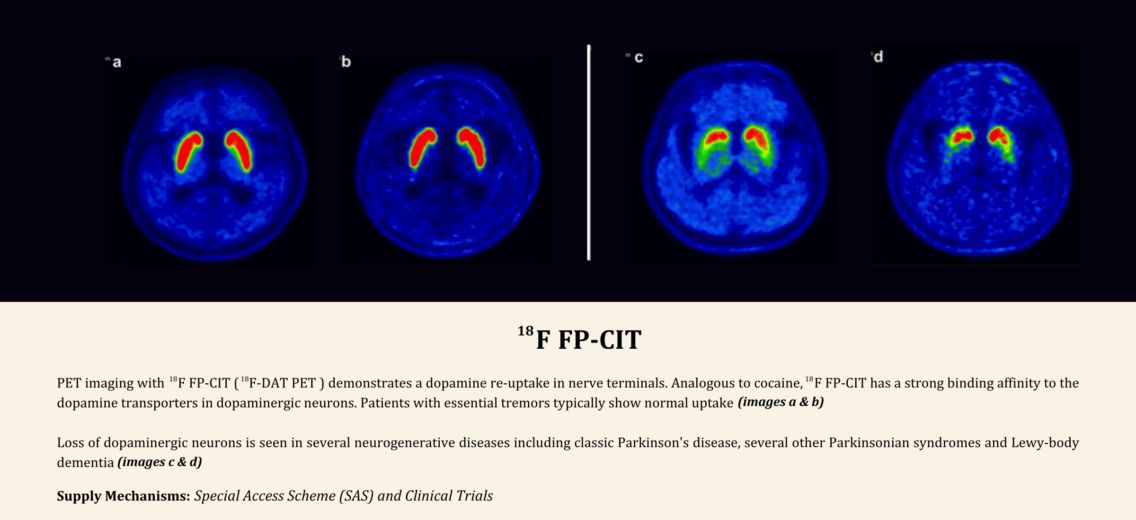 Cyclotek validates to cGMP 18F FP-CIT (PET DAT Scan) for use in Parkinson Disease
Posted on: 21 June 2022
Latest News
Cyclotek's product portfolio has been expanded by the addition of dopamine transporter radiopharmaceutical 18F-FP-CIT following months of intensive development and a stringent validation process. Cyclotek has an exclusive license from radiopharmaceutical developer DuChemBio to supply 18F-FP-CIT in Australia and New Zealand.  In 2008, 18F-FP-CIT achieved regulatory approval in South Korea following rigorous safety and clinical effectiveness evaluations.
18F-FP-CIT

has a strong binding affinity and high selectivity toward the dopamine transporter (DAT) of dopaminergic neurons that are affected by Parkinson's Disease (PD). Fundamentally, the PET imaging using

18F-FP-CIT

reliably differentiates patients with PD from those patients with essential tremors and is particularly valuable when the diagnosis is difficult based on clinical features alone.
With the incidence of PD increasing to one in 100 in people aged 60 or more there is an increasing need for reliable diagnosis at the early stages of the disease. Cyclotek is proud to have focussed the company's expertise in GMP radiopharmaceutical manufacture to provide Australians with access to 18F-FP-CIT for PET diagnostic imaging. Extensive collaboration between DuChemBio and Cyclotek has contributed to the highly reliable production of GMP 18F-FP-CIT using a GE FASTLab synthesiser with the highest quality standards.
CEO Greg Santamaria commented, "Cyclotek is delighted to be a significant force in increasing the global supply of 18F-FP-CIT along with the South-Korean radiopharmaceutical giant, DuChem Bio. We are striving toward building an extensive distribution network across
Australia and New Zealand to ensure that this powerful biomarker can be manufactured and supplied to effectively improve rates of identification and targeting of neurodegenerative disorders. We look forward to assisting patients across communities."
Cyclotek's vision is to promote precision medicine with PET to help each patient get the right treatment at the right time. The addition of

18F-FP-CIT

to its existing portfolio of 15

GMP radiopharmaceuticals have again harnessed Australia's leading radiopharmaceutical Production and Quality Control Team to advance the objective of better patient healthcare outcomes. To assure equity of access throughout Australia and New Zealand Cyclotek, has established multiple dedicated production and QC facilities each having the ability to translate new chemistries, manufacture, validate and distribute GMP quality products.
18F-FP-CIT from Cyclotek will be available through several TGA recognised supply mechanisms, being:
TGA Special Access Scheme, Cyclotek supplies the product to registered health practitioners and clinical imaging providers to further improve the health of the communities they serve.

Clinical Trials, we strive to support the developments in the field of radiopharmaceuticals by supplying products into clinical trials being conducted by researchers within universities and institutions and pharmaceutical companies testing their respective drugs
About Cyclotek
As a leading radiopharmaceutical manufacturer in Australia and New Zealand, our mission at Cyclotek is to improve patient outcomes with accessible targeted radiopharmaceuticals. Our novel PET-tracers provide patient-specific insights into their disease state, providing earlier diagnosis, more accurate assessment of disease extent and improved treatment planning and monitoring.
About DuChemBio Co., Ltd. 
Established in 2002, DuChemBio is the largest radiopharmaceutical firm and the undisputed leader in the field of oncology and neurology PET imaging tracers in South Korea. As a pioneer of a fully integrated nuclear diagnostics business model, DCB develops, manufactures, and commercializes radiopharmaceutical tracers for PET/CT and PET/MRI hybrid imaging. After the merger with Carecamp Inc in 2021, the company now operates 12 radio-pharmacy facilities across the country. DCB is closely collaborating with leading hospitals and research centres to develop and advance the field of nuclear medicine in South Korea. DCB has successfully launched novel proprietary radiopharmaceutical products both developed locally and licensed from international partners.