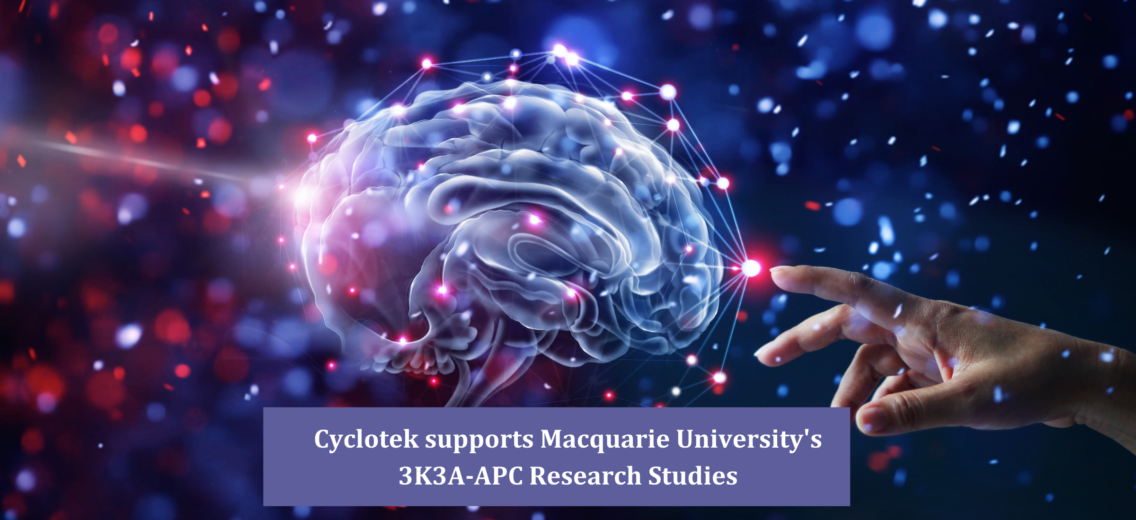 Cyclotek supports Macquarie University's Research Studies in Motor Neuron Disease (MND)
Posted on: 16 February 2022
Research
In collaboration with Macquarie University and Life Molecular Imaging (LMI), Cyclotek is pleased to announce our participation in the study to determine the safety and potential effective dose of the novel therapy, 3K3A-APC in patients with Amyotrophic Lateral Sclerosis (ALS). The 18F-FEMPA, a novel radiopharmaceutical developed by LMI and produced by Cyclotek, is being used to determine the most effective dose of 3K3A-APC which would attenuate microglial activation in the motor cortex of patients.
3K3A-APC is a lab-made variant of human activated protein C (APC) that preserves the neuroprotective activities of the original protein but lacks anti-coagulant capabilities. Participants will receive five doses of 3K3A-APC at either 15 or 30 mg, administered intravenously every 12 hours, and then will be monitored for up to 45 days. During the study, PET imaging with 18F FEMPA scans will be taken to help exhibit the activity of 18-kDa translocator protein (TSPO) throughout the brain.
"3K3A-APC showcases powerful anti-inflammatory qualities, along with restoring the blood-brain barrier, which helps to retard the ALS disease process," said Prof. Dominic Rowe, MD, PhD, who is leading the trial at the Macquarie University Centre for Motor Neuron Disease Research. "FEMPA PET imaging before, and after treatment will act as a standard of comparison to assess the activation state of microglia in the brain and integrity of the blood-brain barrier."
CEO of Cyclotek, Greg Santamaria stated, "The number of clinical trials in Australia and New Zealand is steadily growing across a wide spectrum of neurological diseases which is why Cyclotek has multiple Amyloid, Tau and TSPO radiopharmaceuticals available for researchers and we are expanding product development in 2022. Our focus is to support these research studies through strategic collaboration and resource exchange."
"Cyclotek's validated manufacturing method for 18F-FEMPA under Good Manufacturing Practice (GMP) guidelines provides for product confidence for these collaboration opportunities. We actively seek out opportunities to be a part of milestone projects which focuses on improving patient outcomes and healthcare experiences in the industry but also supporting ground breaking researchers in their never-ending drive for solutions to problems," said Greg Santamaria.
"During an immune response, the microglia respond to brain damage.  18F-FEMPA is a TSPO-ligand that has been tested in Alzheimer's Disease and Friedreich's Ataxia. 18F-FEMPA PET imaging has been developed to overcome limitations faced by previous TSPO-ligands and displays a higher signal-to-noise ratio and helps to identify the location and degree of inflammation in the brain" commented Dr. Andrew Stephens MD, PhD and CMO of LMI.  We are happy to establish another research collaboration, deepening our relationship with Cyclotek and academic institutions in Australia, like Macquarie, engaged in cutting-edge research in neurodegenerative diseases
Deputy Dean Research and Innovation of Macquarie Medical School, Prof Roger Chung noted, "The project outcomes will be positively influenced by our collaboration with Cyclotek and Life Molecular Imaging to better integrate patient-centred clinical care, teaching and research. The support and expertise exhibited by them will help us to create an impact in the ALS/MND community".
Contact:
Mr Greg Santamaria, CEO, Cyclotek
About Cyclotek
As a leading radiopharmaceutical manufacturer in Australia and New Zealand, our mission at Cyclotek is to improve patient outcomes with accessible targeted radiopharmaceuticals. Our novel PET-tracers provide patient-specific insights into their disease state, providing earlier diagnosis, more accurate assessment of disease extent and improved treatment planning and monitoring. Cyclotek is at the forefront of validating new molecular targeted radiopharmaceuticals for the Australian and New Zealand market.
About Macquarie University
Macquarie University has Australia's first fully integrated academic health sciences centre. They combine excellence in clinical care with teaching and research to enhance patient outcomes and improve lives. Researchers also benefit from their unique model because with these opportunities, they are able to see the immediate effects of their research on patients. They continue to challenge and push the boundaries of medical and health research.
About Life Molecular Imaging (Life)
About Life Molecular Imaging LMI (formerly Piramal Imaging) was formed in 2012 with the acquisition of the molecular imaging research and development portfolio of Bayer Pharma AG. It is now part of the Alliance Medical Group (a member of the Life Healthcare Group) offering an integrated business including research and development laboratories, a network of cyclotrons, radiopharmacies and imaging facilities. By developing novel PET tracers for molecular imaging, LMI is focusing on a key field of modern medicine. LMI strives to be a leader in the Molecular Imaging field by developing innovative products that improve early detection and characterization of chronic and life-threatening diseases, leading to better therapeutic outcomes and improved quality of life. Please visit https://life-mi.com