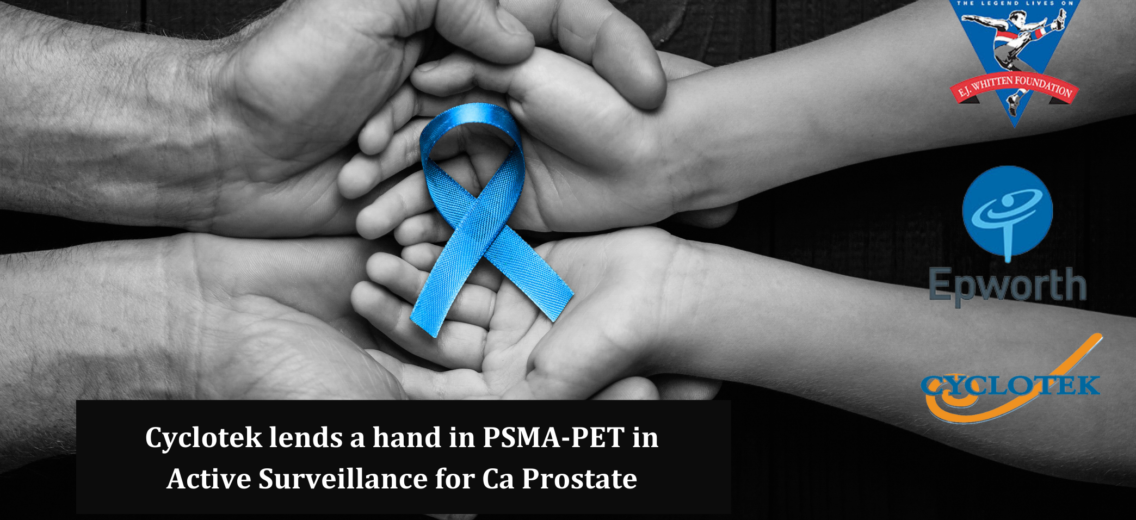 Cyclotek lends a hand in PSMA-PET in Active Surveillance for Ca Prostate
Posted on: 09 June 2022
Research
Cyclotek is collaborating with Whitten Foundation-led research to pave the way for better detection and identification of high-grade cancer in the prostate by using a PSMA PET scan in those patients deemed suitable for Active Surveillance (AS). The supply of GMP approved prostate-specific radiopharmaceutical (

18F-DCFPyL

) is being provided by Cyclotek to clinically localise the sites of prostate cancer with PET imaging. 
The Trial is being conducted at the Epworth Medical Imaging and the research is headed by Nathan Lawrentschuk, the Director of Urology at the Royal Melbourne Hospital, along with Prof Laurence Harewood, Associate Professor at Epworth Health Care Group and other urologists.
The Chief Medical Officer of Epworth Medical Centre, Associate Prof. Dr Luis Prado commented, "The performance of the PSMA targeted
18F-DCFPyL
in the study will help to better categorise patients as suitable or not suitable for AS and may avoid the need for a confirmatory biopsy". Additionally, Cyclotek has once again proved their expertise and commitment towards developing, manufacturing and supplying GMP and TGP approved radiopharmaceuticals for the betterment of cancer treatments in Australia and New Zealand."
In Australia, prostate cancer is the second most common cancer diagnosed in men. It is estimated that close to 18,110 new cases will be diagnosed in 2021. One in six men will be diagnosed with prostate cancer.
Associate Professor and Co-investigator, Laurence Harewood stated, "The study consisted of 223 patients deemed suitable for AS who will initially undergo a 18F-DCFPyL PSMA PET scan, a second multi-parametric MRI and confirmatory biopsy between 3 and 6 months after their original biopsy to identify any lesions".
"For the diagnosis of prostate cancer, 18F-DCFPyL PSMA PET/CT demonstrates high sensitivity and specificity. Cyclotek is the leading manufacturer of innovative diagnostic and therapeutic agents and products and the supplied 18F-DCFPyL will be a relevant factor in the success of our study."
Cyclotek CEO, Greg Santamaria commented, "This study, run by the Whitten Foundation at Epworth Medical Imaging, will answer an array of questions currently raised in the healthcare community. We at Cyclotek consider this as a wonderful opportunity to be a part of this highly committed and passionate team".
The Whitten Foundation stated, "At Whitten Foundation, we believe that prostate cancer does not have to be a death sentence because with the right education and awareness encouraging frequent testing, found early enough, with the right treatment and care, prostate cancer doesn't have to be a death sentence".
Imaging is an important pillar on which clinical decision making is built. Due to the greater detection rates of prostate cancer lesions, there is growing interest in PET/CT with prostate-specific membrane antigen (PSMA) tracers for imaging prostate cancer. Cyclotek is pleased to support and assist the study conducted at Whitten Foundation aimed to improve clinical diagnosis and patient outcomes.
About Cyclotek
As a leading radiopharmaceutical manufacturer in Australia and New Zealand, our mission at Cyclotek is to improve patient outcomes with accessible targeted radiopharmaceuticals. Our novel PET-tracers provide patient-specific insights into their disease state, providing earlier diagnosis, more accurate assessment of disease extent and improved treatment planning and monitoring.
About Whitten Foundation
The E.J. Whitten Foundation was established in 1995 in honour of the great Ted Whitten Senior. The Foundation conducts a broad range of awareness & fundraising activities to increase community awareness of men's health & prostate cancer and to also raise funds for prostate cancer research.
About Epworth
Epworth HealthCare is Victoria's largest not-for-profit private hospital group, renowned for excellence in diagnosis, treatment, care, and rehabilitation. Epworth is an innovator in Australia's health system, embracing the latest in evidence-based medicine to pioneer treatments and services for our patients.