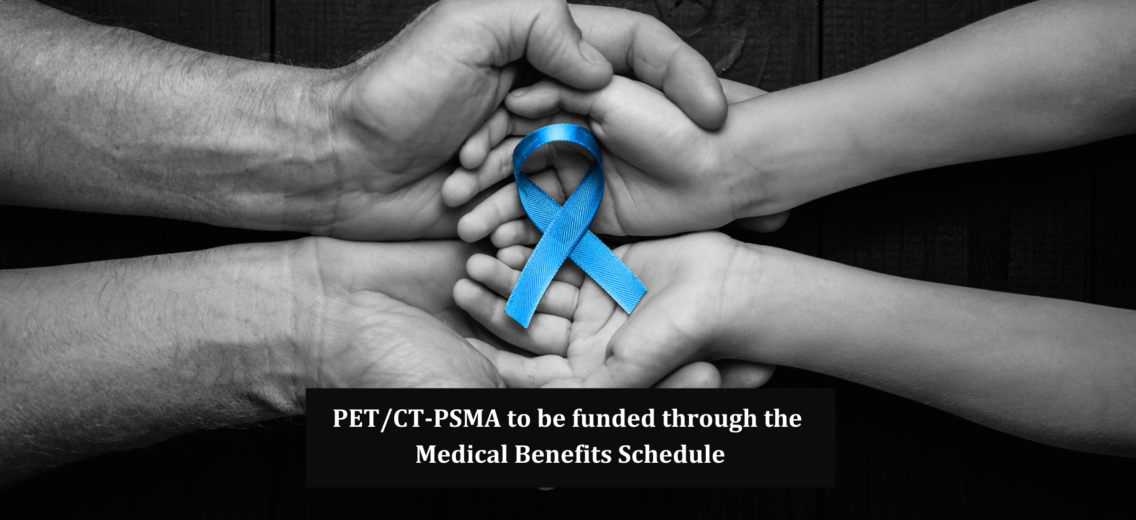 PSMA PET scans for prostate cancer will be funded through the Medical Benefits Schedule (MBS)
Posted on: 05 May 2022
Latest News
Patients will no longer need to pay for these scans themselves and will have equitable access across Australian cities and regional centres to this safe, simple and cost-effective diagnostic imaging for the initial staging of intermediate to high-risk prostate cancer and also assessment of biochemical recurrence.
Cyclotek Chief Medical Officer, Dr Robert Ware wrote and lodged the MSAC application and played a key role in steering the submission through to a successful outcome in conjunction with the Australasian Association of Nuclear Medicine Specialists (AANMS) and HT ANALYSTS with additional financial support provided by AstraZeneca. The submission also incorporated up-to-date cost modelling undertaken by Macquarie University (MUCHE) with input data provided by multiple public and private PET providers throughout Australia and was strongly supported by patient advocacy groups and clinical cancer specialists
Many high quality Australian and international studies using a number of small molecule PSMA inhibitors documented the patient benefits of using PSMA PET imaging to guide prostate cancer treatment. These studies combined provided the body of evidence that met MSAC's standards for a positive funding recommendation to the Health Minister, the Hon Greg Hunt MP.

Cyclotek is proud to have supported the IMMPORT study implemented by principal investigator Dr Michael Ng with PET imaging performed at Melbourne's St Vincent's hospital as this was important local evidence demonstrating the utility of 18F-DCFPyL in biochemical recurrence.
Cyclotek would like to acknowledge and thank all those who supported this successful effort to improve the treatment outcomes for many Australian men battling prostate cancer. Special thanks to Dr Marty Pomper of John Hopkins University who was instrumental in designing 18F-DCFPyL and helping Cyclotek develop commercial viable manufacturing procedures and acquire exclusive rights to distribute this radiopharmaceutical in Australia and New Zealand.
As a TGA licensed GMP manufacturer, Cyclotek is delighted that our customers will now have more equitable access to highest quality radiopharmaceutical for PSMA PET imaging. With over 25,000 doses of

18F-DCFPyL

(PSR) delivered in Australia and New Zealand since the inception of our program in 2018, our products are produced in batches to support your facilities workflow and patient needs. 
The full item descriptor(s) are 61563 and 61564 and information pertaining to the two new codes can be found here.
About Cyclotek
As a leading radiopharmaceutical manufacturer in Australia and New Zealand, our mission at Cyclotek is to improve patient outcomes with accessible targeted radiopharmaceuticals. Our novel PET-tracers provide patient-specific insights into their disease state, providing earlier diagnosis, more accurate assessment of disease extent and improved treatment planning and monitoring.