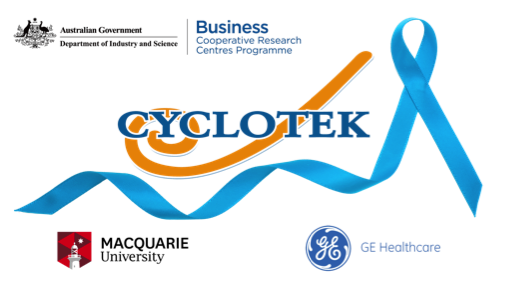 Cyclotek improving diagnostic accuracy in Prostate Cancer
Posted on: 06 August 2017
Company
Cyclotek, in conjunction with GE Healthcare and Macquarie University, has been awarded funding under the Commonwealth's Cooperative Research Centres – Project (CRC-P) scheme, Round 3.
This CRC-P consortium will validate a new PET radiopharmaceutical for use in prostate cancer diagnosis and compare it to conventional imaging (bone scan and CT).
Cyclotek has been a major provider of PET radiopharmaceuticals in Australia and New Zealand since 2001. It has taken a leading role in research, and introduction of novel radiopharmaceuticals for diagnosis of Alzheimer's disease, Multiple Sclerosis, Parkinson's disease and a range of cancers.
PET scanning provides unique insights into these serious diseases, translating directly to more personalised healthcare and better patient outcomes. It assists earlier diagnosis, more accurate assessment of disease severity, better treatment planning and monitoring. In short, it provides more certainty.
The consortium partners have unique capabilities for the execution of the project:
Cyclotek's ability to take novel PET radiopharmaceuticals from discovery to multi-centered clinical trials
GE Healthcare with its leading-edge imaging capability and chemistry platforms
Macquarie University's clinical trials capacity supported through Macquarie University Hospital, health economics research and teaching/training application tools
Cyclotek has secured the license from John Hopkins University, Baltimore USA, for 18F-DCFPyL, a molecule that targets the Prostate Specific Membrane Antigen (PSMA), a protein that is overexpressed in prostate cancer cells, compared to healthy tissues.
The CRC-P project has the following objectives:
Automate the synthesis method for 18F-DCFPyL, develop quality assurance and quality control protocols
Establish a multi-centre clinical trial of 18F-DCFPyL as a PSMA imaging agent, compared to current conventional imaging
Develop a health economic case for Medicare reimbursement of 18F-DCFPyL diagnostic PET scans
Train clinicans in the use of 18F-DCFPyL
Develop a dossier for 18F-DCFPyL regulatory filing for marketing authorisation
Lead Contact: Mr. Greg Santamaria – (p) 03 9467 4966 – (e) greg.santamaria@cyclotek.com
About Prostate cancer
Prostate cancer is the most commonly diagnosed cancer. This project has the potential to improve diagnosis and treatment for the ~20,000 Australian men first diagnosed with prostate cancer each year and the 160,000 men who are living with prostate cancer (https://prostate-cancer.canceraustralia.gov.au/statistics). For further information on prostate cancer refer to Austrlain Prostate cancer Research http://www.prostatecancerresearch.org.au
About Cyclotek (Aust) Pty Ltd.
Cyclotek has been the major supplier of Positron Emission Tomography (PET) radiopharmaceuticals since 2001. It currently operates four manufacturing facilities in Australia and New Zealand, and is rapidly expanding its facilities, and diversifying its range of diagnostic radiopharmaceuticals. Cyclotek facilities are licenced by the Australian Therapeutic Goods Administration (TGA) to manufacture medicines according to the Code of Good Manufacturing Practice (GMP), and therefore meet international standards.
About GE Healthcare Australia Pty Ltd.
GE Healthcare provides transformational medical technologies and services to meet the demand for increased access, enhanced quality and more affordable healthcare around the world. GE (NYSE: GE) works on things that matter – great people and technologies taking on tough challenges. From medical imaging, software & IT, patient monitoring and diagnostics to drug discovery, biopharmaceutical manufacturing technologies and performance improvement solutions, GE Healthcare helps medical professionals deliver great healthcare to their patients.
About Macquarie University.
Uniquely located in the heart of Australia's largest high-tech precient, Macquarie University brings together 40,000 students and 3,000 staff in one thriving hub of discovery. Our campus spans 126 hectares, with open green space that gives our community the freedom to think and grow. Our pioneering teaching and research efforts are aligned with challenges of global significance and our students are considered partners and co-creators in their learning experance. Macquarie University is ranked amoung the top two per cent of universities in the world and with a 5-star QS rating, we are renowed for providing graduates that are amoung the most sought after professionals in the world.
About the Australian Governments Cooperative Research Centres scheme.
The Cooperative Research Centres (CRC) Programme supports industry-led collaborations between industry, researchers and the community. It's a proven model for linking researchers with industry to focus on research and development towards use and commercialisation.
It aims to:
improve the competitiveness, productivity and sustainability of Australian industries, especially where Australia has a competitive strength;
deliver outcomes in line with government priorities;
encourage and enable small and medium enterprise (SME) participation in collaborative research;
foster high quality research to help solve industry specific problems through collaborative research partnerships between industry entities and research organisations.